Leo and Mikah to Deliver Live Coverage of November Apple Event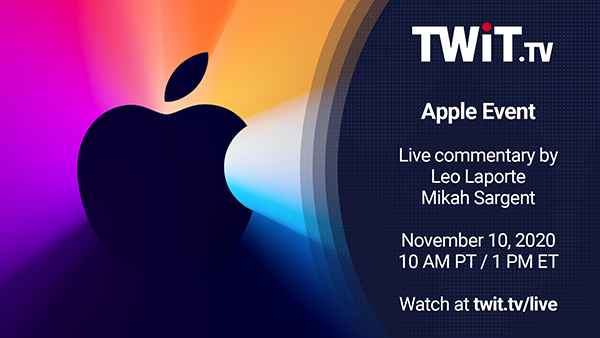 It's been a challenging year, but Apple fans can look forward to "One More" event on November 10 at 10 a.m. PT / 1 p.m. ET.
And of course, Leo Laporte and Mikah Sargent are ready to cover it live, just like they did with the first two events.
But before that, Leo and Mikah have a little "one more thing" of their own so you should tap here! (You'll need to be on an iPad or iPhone to view this properly.)
Join the fun on Tuesday, November 10 at 10 a.m. PT/1 p.m. ET. Tune into the TWiT Live Stream and watch the Apple Event with Leo and Mikah's live commentary. Subscribe to TWiT News to get the podcast as soon as it's ready.
iOS Today records early at 8 a.m. PT, so be sure you're subscribed to get the episode as soon as it's ready. Leo will follow the Apple Event coverage by immediately jumping into MacBreak Weekly, so that show promises to dissect all that Apple announces.
All Inside TWiT posts