Attack and Defense: Experts to Debate Cybersecurity Threats on Podcast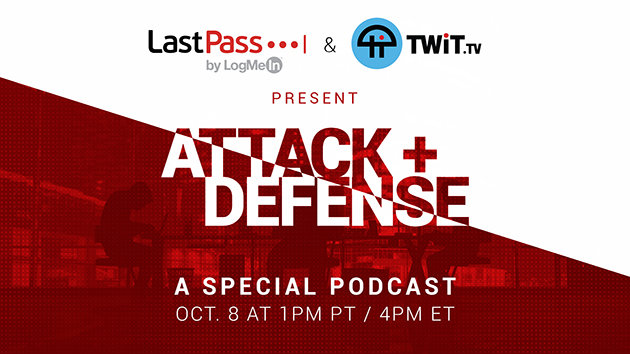 As if a deadly virus wasn't enough, 2020 is seeing a rise in cybersecurity threats riding on the backs of chaos. For example, there's been a sharp rise in domain-impersonation attacks aimed at conversation hijacking.
On October 8th at 1 p.m. PT on the TWiT Live Stream, a panel of security experts will discuss five common attack scenarios and the best practices to defend against them. And this won't be your typical panel discussion. Panelists will be divided into "attackers" and "defenders," each presenting their cases. The Attack and Defense panel discussion will become a special podcast on TWiT Events feed so subscribe and get it as soon as it's ready. 
Expect to hear a lively discussion between Chief TWiT Leo Laporte, security guru Bruce Schneier, IT expert Fr. Robert Ballecer, SJ, This Week in Enterprise Tech's Brian Chee, and Gerald Beuchelt, Chief Information Security Officer at LastPass by LogMeIn. This event is sponsored by LastPass.
This panel is the third in the series, Cybersecurity & Identity Trends, Unlocked, sponsored by LastPass. The first was held in October 2019, and the recording is available as a podcast here. The second panel discussion, The Future of Securing Digital Identity, was held in May 2020 and also available as a podcast.
All Inside TWiT posts