Apple Unveils iPhone 15, Apple Watch Ultra 2, and More at Wonderlust Event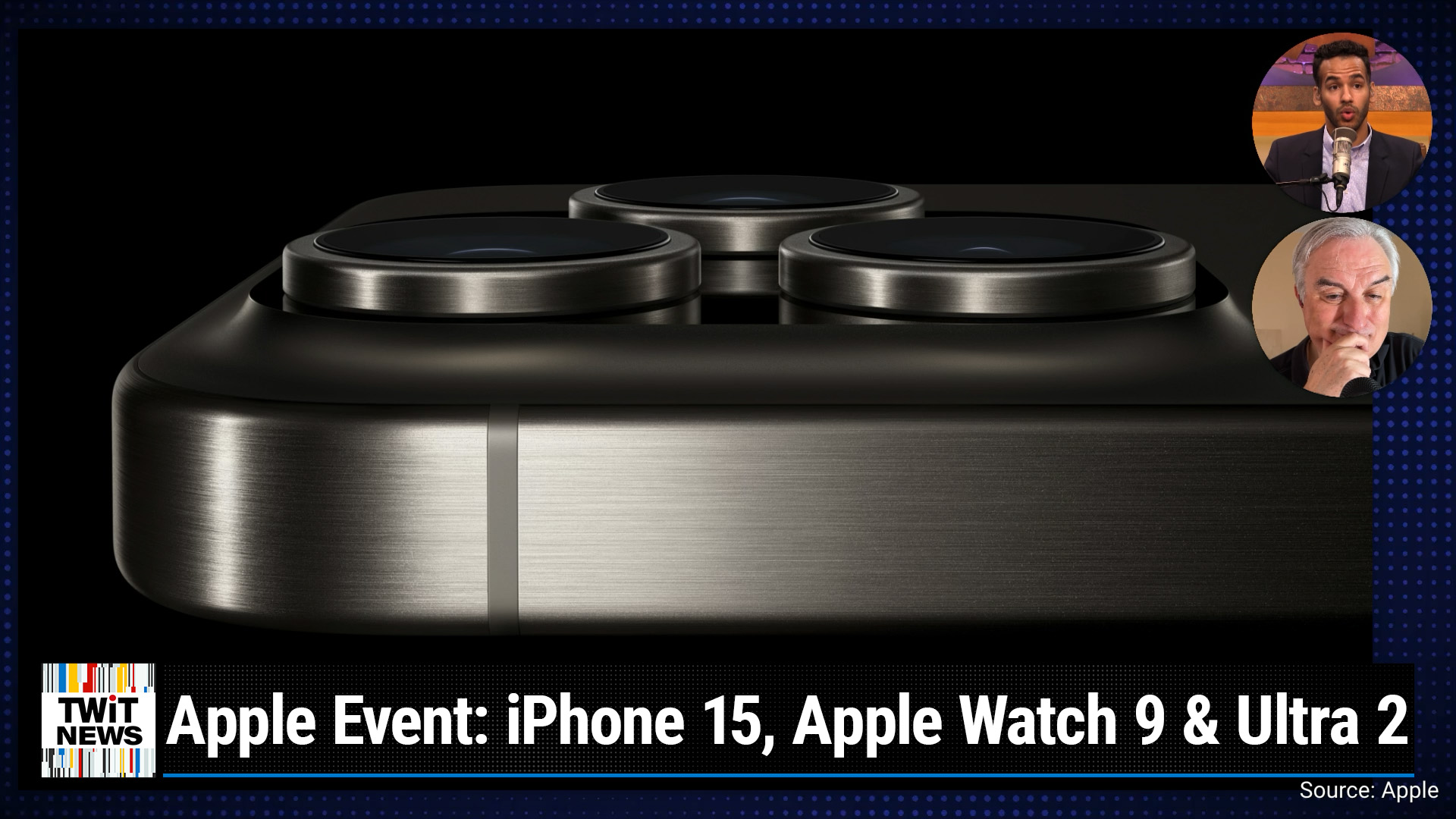 Earlier this week, Apple held its annual September event, dubbed "Wonderlust", to unveil the latest iterations of its popular iPhone and Apple Watch devices. Leo Laporte and Mikah Sargent shared their thoughts, analysis, and — of course — a few jokes while covering the live event.
The star of the show was the iPhone 15 lineup, featuring the introduction of the Dynamic Island to the non-Pro iPhone models. The Dynamic Island expands to display alerts and information while enabling users to continue on with their other iPhone interactions. The standard iPhone 15 models also gain a new 48MP Main camera and A16 Bionic chip, while the iPhone 15 Pro and Pro Max have a new 48MP Main camera with support for what Apple calls, "super-high-resolution photos," a new A17 Pro chip, and a new, customizable Action Button.
Perhaps the biggest change across all iPhone 15 models is the switch to USB-C charging and the loss of Lightning. As Laporte noted, this move was likely inevitable due to EU regulations, but both hosts were pleased that Apple embraced USB-C for its charging capabilities and data transfer improvements.
On the Apple Watch front, the new Apple Watch Ultra 2 gained a novel feature — a gesture called double tap that lets you interact with your Apple Watch without needing to touch the screen. It also features the new S9 System in Package (SiP), Precision Finding for iPhone, and a much brighter display. Both hosts remarked on how the Ultra 2 changes were relatively minor, suggesting Apple wants to maintain parity between its high-end watch models.
The Series 9 updates, like on-device Siri processing, double-tap gesture control, and a much brighter display attracted more commentary. Sargent was particularly enthusiastic about the new Carbon Neutral Apple Watch variations.
Laporte and Sargent kept the live commentary lighthearted, poking fun at some of Apple's dramatic marketing videos and questioning whether certain technical claims really manifest in real-world use. But overall, they seemed impressed by the incremental but meaningful updates to Apple's core products.
With no major surprises at the event, the hosts closed by noting Apple will likely hold off on more announcements until Spring 2024. But the iPhone 15 and Apple Watch Series 9 promise advancements that loyal Apple users will appreciate.
Download the episode here: TWiT News 395
All Tech posts