Tech News Today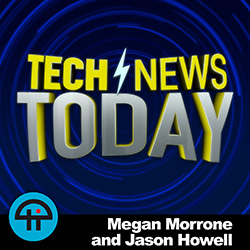 We're barely a month into the new
Tech News Today
, and avid viewers ranging from our parents to some guy who randomly found us on his Roku are telling us they like what we're doing!
We've been playing with the format all month, and zeroing in on what we think fans of daily tech news might want: Top stories, engaging interviews, and a healthy dose of humor and personality.
First, we want to give you a rundown of all the important tech news of the day-- It could be anything with a chip in it, the next social media platform, virtual and augmented reality, machine learning, self-driving cars, smart appliances, drones, and so much more. Beyond that, how are these behemoth tech companies fighting for our collectively sticky eyeballs? It's all fair game.
But the important distinction is that, whatever we talk about, it has to be the stuff that affects our lives. To that end, we might choose to pass on things like mergers, acquisitions, and quarterly earnings. That is, of course, unless they truly mean something to the big picture.
We aren't the only voice you'll hear on this show, nor do we want to be. In addition to our creative team at TWiT, we are drawing heavily on the opinions and perspectives of our daily guests who will join us in contributing to the entire show. That guest might be a journalist, a podcaster, a YouTuber, or just a tech expert. If they share a passion of technology, their point of view is valuable to the greater conversation. We'll also interview other journalists, experts, professors, and creators whenever stories arise that can benefit from their background and expertise.
Further, we want you to be a part of the show too! Send us your comments, suggestions, videos, voicemails, and social updates, and we'll do our very best to bring you into the conversation.
We know that everyone is busy and you have endless choices of what to watch and listen to. Most of all, we want you to know that we value your time and are grateful that you've chosen to spend some of your time with us.
Visit twit.tv/tnt to keep up-to-date with the latest episodes, or subscribe through your favorite podcatcher. You can also watch it live each day, Monday through Friday at 4PM Pacific, at twit.tv/live.
All Inside TWiT posts