Enterprise IT in the Post-Covid World - A Special Podcast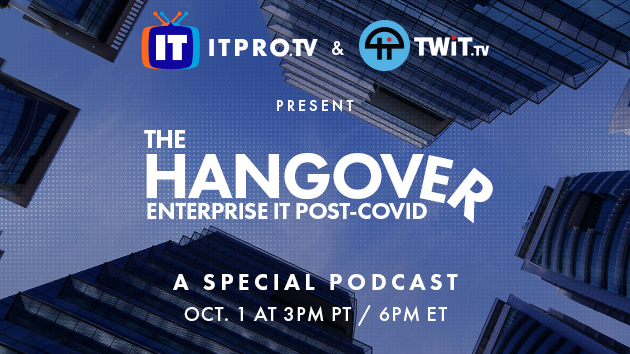 What will the new normal look like after Covid-19, from an enterprise IT perspective?
Mark your calendars for a special online panel discussion on what to expect and how to prepare.
The Hangover: Enterprise IT Post-Covid will be held on Oct. 1st at 3 p.m. PT on the TWiT Live Stream. The event is open to the public and is sponsored by ITProTV. It will also be recorded and released as a podcast on the TWiT Events stream.
Panelists are Leo Laporte, futurist Amy Webb, Security Now's Steve Gibson, and ITProTV co-founder Don Pezet. Be sure to follow TWiT on Twitter because there'll be an audience Q&A at the end, with questions collected through Twitter.
As the world grapples with the pandemic, power is shifting, consumers are forming new habits, and companies are rising and falling. After COVID-19, how will business proceed, and what unique role will enterprise IT play?
Some of the topics they'll cover are:
Will new habits formed during the pandemic bring more business into the cloud?
Will e-commerce replace brick and mortar?
Will employees continue to work from home? How will that change IT and security?
What new security threats will we face in 2021?
The rise of nation-state actors and how they'll impact national infrastructure and economics.
How to plan for the new boom-or-bust global economies.
So join us, at twit.tv/live, on Oct. 1 at 3 p.m. PT. Subscribe to the TWiT Events stream to download this and all future TWiT events as soon as they're ready as podcasts.
All Inside TWiT posts