Apple Unveils iPhone 15 Lineup, Apple Watch Series 9, and Apple Watch Ultra 2: Recap of the Key Announcements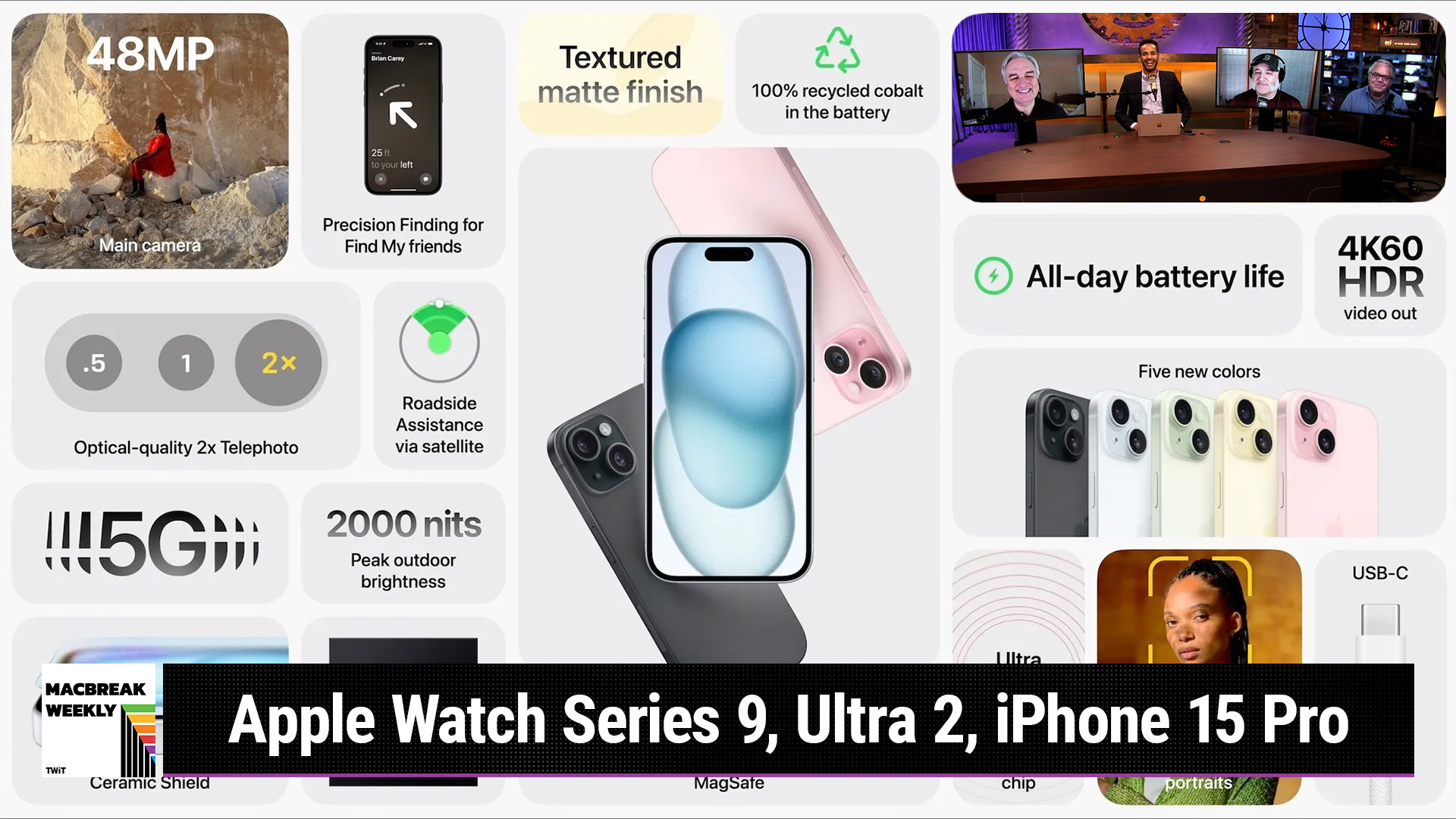 Blog created using AI and edited by humans from MacBreak Weekly Episode 886
The iPhone 15 Lineup: Improved Cameras, USB-C, and Dynamic Island

The iPhone 15 and 15 Plus got notable upgrades to the camera system, especially the main 48MP camera with a new default 24MP mode for super high-resolution photos. Alex Lindsay was particularly excited about the camera upgrades, noting the "collective gasp" from his team watching the event live. The iPhone 15 Pro and Pro Max push camera capabilities even further with improvements to low-light photography, Portrait mode, and the new telephoto lens with 5x optical zoom on the Pro Max.
Other changes include the switch to USB-C, replacing the Lightning port on previous iPhones. While Leo Laporte suspects Apple was dragged "kicking and screaming" to this change, mandated by an EU law, he admits USB-C offers much faster potential speeds. However, Andy Ihnatko criticized the $29 price tag for Apple's USB-C to Lightning adapter, calling it "ridiculous."
All iPhone 15 models, including the non-pro versions, now sport the Dynamic Island first introduced on the iPhone 14 Pro. This clever feature expands notifications into an interactive pill-shaped cutout housing the front camera and Face ID tech. Mikah Sargent called it an "elegant experience" that will keep users better informed.
Apple likely hopes these features, along with the camera improvements, will spur users of older iPhones to upgrade. But, the hosts debate whether these changes are enough to drive sales or merely iterative updates to a mature product line.

Apple Watch Series 9: Brighter Display, Gestures, On-Device Siri

With the Apple Watch Series 9, Apple focused on enhancements like the brighter always-on display at up to 2000 nits, a new double-tap gesture to control the Watch, faster on-device Siri that can access health data, and Precision Finding to locate a paired iPhone. Mikah Sargent noted the double tap gesture could prepare people for using gestures in future AR/VR devices. The Series 9 also features watchOS 10 with redesigned apps, new Watch faces, and improved health-tracking capabilities.

Apple Watch Ultra 2: Upgrades for Outdoor Use Cases

Building on last year's rugged Apple Watch Ultra, the new Ultra 2 continues to be tailored for use in extreme sports and outdoor adventures. It adds a brighter display at up to 3000 nits, Precision Finding for iPhone, and improved altitude range. Those who've used the Ultra for water sports and adventures will be happy to hear the company has added new, Dive-specific features and functionality designed for the new Apple Watch Ultra 2.

Sustainability: A Key Focus of the Announcements

There was a strong emphasis on sustainability initiatives across the event, in line with Apple's 2030 carbon-neutral goals. This includes recyclable materials in the new devices, removing leather from Apple's product offerings, and reducing carbon emissions from manufacturing and transportation. For the first time, Apple announced carbon-neutral models of the Apple Watch.
The hosts were split on whether Apple spearheaded genuine change or engaged in marketing speak.
As Mikah Sargent said, "They talked about the environment for 20 minutes. That shows how much they care, or how much they want us to think they care." Andy Ihnatko praised Apple's commitments but stressed true impact requires extending product life spans through repairability. The jury is out on Apple's eco-friendly product claims versus substantive action.

Overall Impressions: Iterative Updates but Strong Cameras May Drive Upgrades

The overarching view is that the updates feel iterative and familiar, with the predictable upgrades to Apple's bread-and-butter products. But Leo Laporte believes the major camera advancements on the iPhone 15 Pro lineup, in particular, will spur upgrades by users of older models.
Alex Lindsay summed it up best: "Apple knows they have a hit with the camera bump, so they're really punching up this feature to get folks excited about their next iPhone." The camera capabilities seem poised to headline Apple's 2023 product refresh.
Download and subscribe here: MacBreak Weekly 886
All Tech posts