This Week in Tech to produce early due to possible power shutoff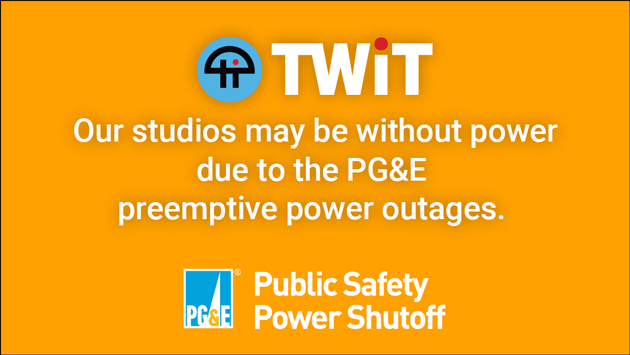 TWiT's Petaluma Eastside Studio may lose power this weekend as part of PG&E's proactive power outages for wildfire prevention.
This Week in Tech, which normally records on Sundays, will be recorded Friday afternoon at 4 pm PT and published Saturday morning. The show will be streamed live during the recording.
The Tech Guy episodes for this Saturday and Sunday were pre-recorded prior to Leo Laporte's leave and will be published as scheduled at 11 am PT both days.
Strong winds and extremely dry conditions continue to create critical weather threats. A red flag warning was in effect Oct. 23 and 24, and a preventative power outage was initiated on Wednesday. Although the outage didn't affect TWiT, Petaluma woke up Thursday to the sight of the 23,700-acre Kincade fire burning in the distance. Friday, smoke from the Kincade fire 40 miles north continues to cloud our views outside.
Another red flag warning, covering a larger swath, is scheduled to go into effect Saturday evening, Oct. 26, through midday Monday, Oct. 28.
If this weekend's outage takes place, it will be PG&E's third preventative power outage in the area this season. The first power outage shut down the TWiT operations for two days on Oct. 9 and 10.
All Inside TWiT posts