Triangulation Nominated for a Webby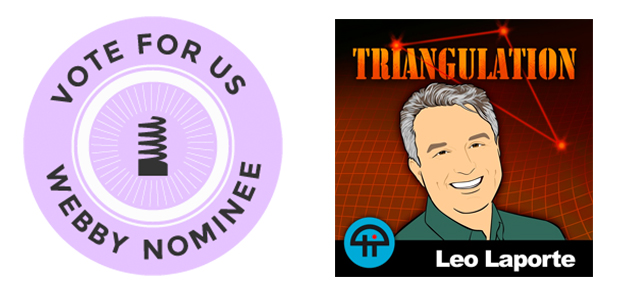 We are honored to be nominated for a Webby Award for Leo Laporte's interview on Triangulation with Ben Wizner, Edward Snowden's Lawyer and Director of the ACLU Speech, Privacy, and Technology Project. 
Receiving a nomination means we are one of the five best in the world, in the category of Technology Podcasts. That's quite a distinction. The Webby Awards are picked by the Academy, but the People's Voice Award is chosen by the public.
We would be humbled if you would take the time and head over to twit.to/webby2017 and cast a vote for Leo. Voting ends on Thursday, April 20, 2017, and the winners will be announced on Tuesday, April 25th.
All Inside TWiT posts