Tech News Today in 2016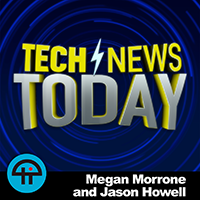 As 2016 approaches, we are making a few changes to TWiT's News Department.
Mike Elgan has decided to move on from TWiT to focus on his writing and resume his world travels. We wish him the very best, and he will still be a regular guest on both This Week in Google and This Week in Tech. You can follow his adventures as a "digital nomad" here.
We are excited to announce Jason Howell and Megan Morrone as the new hosts of Tech News Today. We look forward to this pairing and seeing how the show evolves in the new year. The redesigned Tech News Today launches on January 4, 2016, and you can subscribe here.
(Megan Morrone will be anchoring TNT in the interim, through the rest of 2015).
Stay tuned! We will have more updates soon on changes to the TWiT Live schedule for 2016.
All Inside TWiT posts