Apple iPhone Event Coverage: 9/9 at 10AM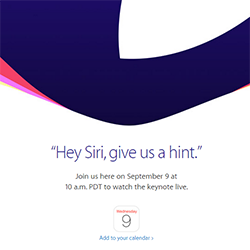 Please join us on Wednesday, September 9th, at 10AM Pacific for TWiT's coverage of
Apple's 2015 iPhone Event
in San Francisco.
Mike Elgan
 and
Megan Morrone
will be joined by
Alex Lindsay
and special guests (to be announced). We will be carrying Apple's live stream, with commentary from our panel as they discuss all of the news and announcements.
You can watch and listen live at
twit.tv/live
. The coverage will also be made available as a 
TWiT Live Special
 for download and on demand streaming.
Please note: We will be ajusting our schedule for the day (and the day before) to accommodate this coverage.
The complete schedule for Wednesday, September 9th, is as follows:
07:30AM - FLOSS Weekly
09:00AM - Tech News Today
10:00AM - Apple iPhone Event Coverage
12:00PM - MacBreak Weekly* (special day/time)
02:00PM - This Week in Google
04:00PM - Tech News 2Night
04:30PM - Android App Arena
05:00PM - iFive for the iPhone
06:00PM - Ham Nation
*That week's Windows Weekly will record on Tuesday, September 8th at 11AM (in MacBreak Weekly's normal spot).

(All times PDT, GMT -7:00)
All Inside TWiT posts