Apple Event Special Event 2017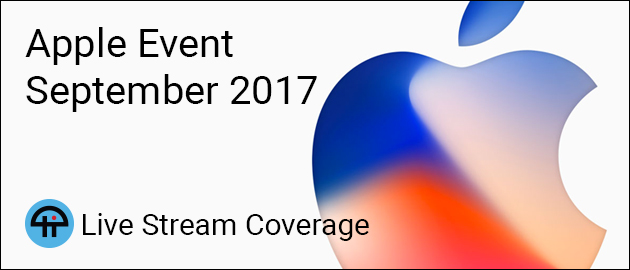 Our coverage of the Apple iPhone 8 launch starts at 9:45 am Pacific Time, Tuesday, September 12. Make sure you watch Leo Laporte, Megan Morrone, and Alex Lindsay on the Live Stream for commentary on this long anticipated event. We will also live-tweet and post video of the significant announcements at @TWiT. 
Apple CEO Tim Cook and crew are expected to show off the new iPhone, a 4K Apple TV, an LTE Apple Watch, and maybe a few surprises. Adding to the fun, this is the first event to be held in the new Steve Jobs Theater.
Live Schedule Changes due to the Apple Event on September 12th for the shows noted below: 

Tuesday
MacBreak Weekly 12 pm PT
Security Now 2 pm PT

Wednesday
iOS Today 9 am PT

Thursday
Floss Weekly 9:30 am PT
All Inside TWiT posts